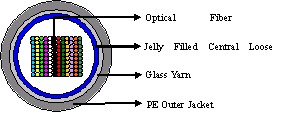 Central Loose Tube Ribbon Fiber Cable I ﹡Drawings are not to scale

Application Standard:
This type of cables will provide excellent transmission performance and protection of fibers in a
variety of field environments. It is used in long haul communication system, subscriber network
system, distribution and feeder network system, local area network system.

Product Description:
Multiple ribbon loose tube, gel filled, single direction rotation for the ribbons, 12-fiber ribbon that
can be easily divided into two 12-fiber ribbon and can be easily separated by hand and tool. The
cable jacket incorporates glass yarn dielectric strength member and polyethylene (PE) outer
jacket.

Construction Matrix :
Fiber Count

Nominal Weight (Kg/Km)

Nominal Outer Diameter (mm)

Maximum Bend Radius

With Load (cm)

No Load (cm)

12-96

166

13.8

280

210

108-216

244

16.3

330

250

Machanical Characteristics:
Temperature Range:
Operating/Storage: -40℃ to +70℃
Installation: -30℃ to +60℃
Crush Resistance: 300 N/cm
Impact Resistance: 25 times
Twist (Torsion): 2m × 10 cycles
Repeated Bending: 20D × 25 cycles