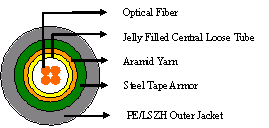 Dielectric & Steel Tape Armored Type
﹡Drawings are not to scale

Application Standard:
Light weight, flexible small diameter, usable in aerial and duct, connection cable between main
and terminal distributors, suitable for use in risers, can be spliced in cable terminal distributors.

Product Description:
Central loose tube cable contains one tube with 2 - 12 fibers. The cable jacket incorporates
glass yarn, a steel tape armor and polyethylene (PE)/Low Smoke Zero Halogen(LSZH) outer
jacket.

Construction Matrix :
Fiber Count

Nominal Weight (Kg/Km)

Nominal Outer Diameter (mm)

Maximum Bend Radius

Loaded (mm)

Installed (mm)

2-12

63

8.1

200

100

Machanical Characteristics:
Temperature Range:
Operating/Storage: -25℃ to +70℃
Installation: -25℃ to +60℃
Crush Resistance: 300 N/cm
Impact Resistance: 25 times
Twist (Torsion): 2m × 10 cycles
Repeated Bending: 20D × 25 cycles (D----Cable Outer Diameter)