Standards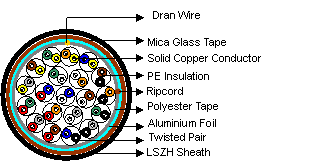 • CW 1600
Construction
Conductors
Solid annealed bare or tinned copper sized 0.5mm (24AWG respectively) as per class 1 of BS 6360/IEC 60228.
Insulation
Solid polyethylene as per BS 6234/IEC 60708
Twisted Pairs
Insulated conductors are twisted into pairs with varying lay length to minimize crosstalk
Cabling Element
Twisted Pairs/Triples/Quads
Cable Core Assembly
There are two modes of construction: layer for general use, including two cables for installation in customer's premises where a good appearance is required; and unit of 20 pairs which includes an insulated earth conductor of 1.38mm, for use with customer distribution scheme.
Core Wrapping
Cable containing more than 12 wires have a polyester tape applied over the cable core prior to sheathing.
Screen
A 24μ aluminium polyester foil shield can be provided for fully enclosing the core with an overlap
Fire Barrier Tape
Mica glass tape is included in cable with more than 6 pairs for achieving the required fire properties
Sheath
LSZH compound. Grey, White, Cream or Black colours are available for options
Ripcord
Nylon ripcord may be placed parallel to the cores to facilitate sheath removal
Drain Wire
A solid tinned 0.5mm earth/continuity wire shall be laid longitudinally